The Queen's Jewels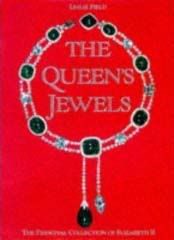 Leslie Field
Harry N. Abrams, Inc. 1987
ISBN:0-8109-1525-1
This is one of my favorite books on royal jewels. It fueled my personal interest in the glitter that queens and princesses wore, but from a historical view. Who acquired or was given what and how did that particular piece made its way through time from owner to owner (provenance).
The Queen's Jewels - The personal collection of Queen Elizabeth II
is a marvelous book written by Leslie Field, a features writer,
fashion editor and broadcast commentator. Ms. Field spent four
years researching and writing the book, which not only covers
the personal jewels owned by the Queen, but also the female
family members such as the Duchesses of Kent and Gloucester.
The jewels are organized by stones from amethyst to turquoise.
In order to truly appreciate the work that went into this book
one has to read. You can find interesting information on
well-known pieces like the Vladimir Circle Tiara or the Cullinan
"chips" to obscure pieces like the recently sighted "Ladies of
North Wales" emerald leek brooch or the Iveagh Tiara.
There are three editions of this book, the best one to have
being the one with the red cover. Multiple copies abound,
so a beginning book collector can pick one up cheap off
E-Bay or other Internet booksellers.